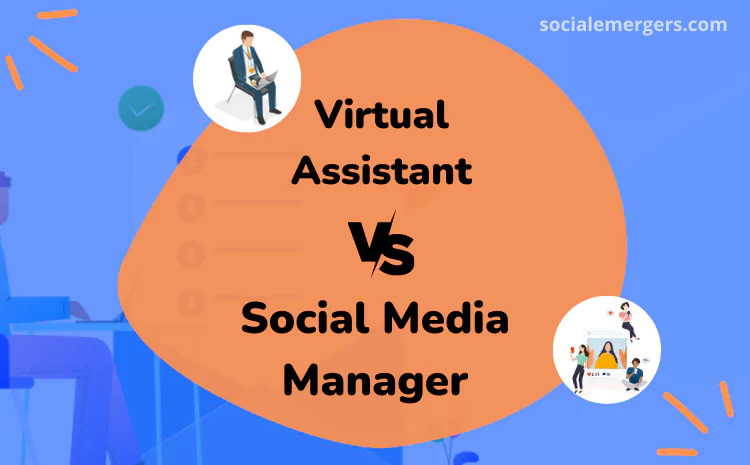 We all know how important it is to maintain an online presence for our business to survive in this high competition online world. But another thing that is equally hard for business owners is to decide whether to hire a full-time social media manager or outsource social media to a virtual assistant.
So here, in this guide today we're gonna give you a clear view of virtual assistants vs social media managers so that you can choose better for your business.
In this guide you'll learn about the role, degree of responsibilities, tasks, and cost of both virtual assistant and social media manager. So read on!
What is a Virtual Assistant
Okay so let's start with the basics. What is a virtual assistant?
Although, the term has gained a lot of popularity in the recent working environment but still for those of you who don't know, a virtual assistant is someone who performs assigned tasks for a business or individual operating from a remote location.
Generally, virtual assistants perform administrative work for businesses like scheduling meetings, replying to calls or emails, calendar management, and/or booking flights.
But then why virtual assistant vs social media manager is a point of debate?
Well, if you are thinking that a virtual assistant can only provide admin support and have nothing to do with social media…
Hold on a second and bear with me for a while.
How Can A Virtual Assistant Help With Social Media
Gone are the days when the job of a VA only revolved around the tasks of a personal assistant or admin executive.
Today there are many known virtual assistant agencies that provide businesses with various, more complex, and creative services like social media management, content writing, and website designing.
And many small and medium-sized companies are hiring virtual assistants these days to handle social media for their business to save their time and money. Hiring a virtual assistant for social media is the new rising trend in the outsourcing market
Some of the tasks that a virtual assistant can perform to grow your business on social media are —
Scheduling pre-decided content on various social media platforms

Creating posts and graphics for different platforms according to your business needs

Writing and researching content for social media platforms
If you wish to learn more about what tasks a virtual assistant does for your social media, see this checklist.
What is a Social Media Manager
A social media manager is someone who takes on all the day-to-day social media activities of your business just like a virtual assistant but unlike a VA an SMM's responsibilities far exceed then just posting and scheduling content on social media.
A social media manager is also responsible for formatting new strategies, setting social media goals, and identifying your target audience. So you can say a social media manager is a part of your company's upper-level management while on the other hand, a virtual assistant is like a virtual employee who helps you in saving time by taking out time-consuming social media tasks for you in a given time and according to your instructions.
Difference Between Virtual Assistant and Social Media Manager
From the above definitions and roles of a virtual assistant and social media manager, we can clearly differentiate between the two.
On one hand, a virtual assistant can take on your time-consuming tasks like scheduling posts, replying and engaging to comments, designing graphics, and writing long captions.
On the other hand, a social media manager can help you build social media marketing strategies, and plan what kind of content should work better for your business.
So we can clearly say hiring a social media manager is better if you want to grow on social media. Right?
Well, actually we should not jump to a conclusion this early.
Let's analyze the two a little deeper and compare virtual assistants and social media managers in terms of costs.
Cost of Hiring A Virtual Assistant
Most VAs charge on an hourly basis but these hourly charges can vary tremendously. Some VAs can charge as low as $1 per hour and some others as high as $100 per hour or even more.
So there is no particular rate card that you can have for VA services because the cost of a VA depends on a number of factors like—
Experience: The experience of a VA is a major factor that determines their cost per hour. The more experienced the VA is in a particular service the more they charge. But it'll still be more affordable as compared to a full-time social media manager.
Geographical Location: The geographical location of your VA plays a vital role in deciding their pay. According to a

 report Australia is the leading country with the top VA pay of $5,600 monthly and the Philippines with the lowest of $400 monthly.

Complexity of Task: Basic jobs like only scheduling and posting on social media may not involve that much cost but if you are hiring a VA for complete social media marketing then you might have to incur a higher cost.

Gender of virtual Assistant: Yes, even the gender of your virtual assistant affects the pricing. But surprisingly, unlike every other industry in the VA industry women get the upper hand.
Cost of Hiring A Social Media Manager
Hiring an in-house social media manager can be a little expensive because its cost is way higher than a virtual assistant or freelancer. According to a report, the average salary of a social media manager in the US is $63,265 with an annual bonus of 3% and the salary bracket for an SSM is $24,000 to $175,000.
Plus when you hire an in-house employee, you are liable to pay them more than just salary. Bonuses, funds, orientation expenses, and on-the-job training expenses are all part of the costs that a company has to bear for in-house teams.
Moreover, to find your perfect match you have to conduct the long process of hiring which can take up a lot of time and increase your operational costs a little more.
Can You Have The Best of Both World
Now, after knowing the pros and cons of both social media managers and virtual assistants you might be thinking can't I have the best of both of these?
I mean, most of the business owners that I met want the specialized services of a social media manager but at the price of a virtual assistant because after all, they have to run a business and most companies especially startups and small businesses can not afford to spend a huge chunk of their budget just on social media. Right?
So can't we all have a mid-way to this battle of virtual assistant vs social media manager?
Well, there can be a solution to this and that is hiring a social media virtual assistant.
Yes, you read it right.
A social media virtual assistant is not a general VA who only performs a few mundane tasks. A social media VA is a specialized professional who can do almost everything that a social media manager can do for your business.
However, the price of hiring a social media VA can be a little higher than a regular VA due to the specialized services offered but still, it'll be more affordable as compared to hiring a full-time in-house social media manager.
Plus you can get more professionalism while working with a VA as compared to working with a freelancer. But not every VA company provides specialized services for social media.

But a few VA agencies like Social Emergers offer specialized services in the field of social media and if you wish to learn more about a social media virtual assistant, you can read here.
FREQUENTLY ASKED QUESTIONS (FAQ)